Playground Safety and Security
The Government's commitment to invest £225m in building or upgrading playgrounds via funding to Local Authorities, signals the first major initiative addressing recreational play facilities for children aged 8 -13. Secretary of State for Children, Schools and Families, Ed Balls, is reported to have said: "We know from parents and young people who took part in our Children's Plan consultation that these facilities are something they want and will use. And as parents we all know that having the time, space and opportunity to play freely and safely is one of the defining characteristics of a good childhood".
Naturally, we applaud the initiative, but in a recent study of playgrounds in and around Kent, we found that few of the fencing or gates employed would comply with BS EN 1176 or pass an independent RoSPA inspection. While not an exhaustive study, the results indicate that much greater attention is required from Local Authorities and their advisors if the building or upgrading of playgrounds can also help to reduce the estimated 40,000 injuries to children on playgrounds each year which result in a hospital visit and potential legal action.
About BS EN 1176
The BS EN 1176 standard is not a legal requirement in the UK but Local Authorities who can demonstrate their legal duty of care through compliance would find themselves better placed in the unfortunate event of an accident claim. When upgrading or building a playground, there are a number of factors to consider in defining the specifications for fencing and gates to create a safe enclosure, for example:
1. Primary function of Fencing and Gates
Fences serve three primary functions in enclosing a playground or play area:
• To keep children within the relative safety of the play area.
• To keep dogs off the play area.
• To give children a sense of their own space, separate from the surroundings.
2. Legislation and Liabilities
Managers and operators of playgrounds are liable for litigation if found negligent in taking reasonable care to ensure safety and avoid accidents they could reasonably have anticipated; for example if a child trapped a limb between the vertical pales of a nonconforming fence resulting in an injury.

Legislation covering playgrounds include:
• Occupier's Liability Act (1957)
• Health and Safety at Work etc. Act (1974)
• Management of Health and Safety at Work Regulations (1999)
3. Safer Fencing and Gates for playgrounds and play areas
BS EN1176 Design and Specification considerations for fencing and gates to playgrounds and play areas include:
A minimum fence height of 1.0m
Raking panels for sloping sites to maintain fence height
Strong fixings to proprietary caps and edgings
Safe design to eliminate the risk of child entrapment within the fence
Capping to any sharp or protruding fixings.
Durable materials to resist any anticipated vandalism and likely usage
Durable coatings and treatments (e.g. the vacuum pressure impregnation of timber and hot dip galvanizing of steel etc)
Use of the best quality/largest sections of robust material(s) that can possibly be afforded at the outset to minimise the necessity for frequent repairs and maintenance
Timber should not be prone to splintering (eg planed timber instead of sawn)
Fencing should not be installed in such a way that it can be fallen on from a piece of play equipment or any bench seats
Gates should not be installed opening directly onto a hazard such as an open road
Gates should be a minimum of 1m open width and to allow passage of wheelchairs and pushchairs. They should open outwards except if they would cause a hazard to others i.e. opening into the path of pedestrians/cyclist etc. If gates open outwards then this will stop dogs from entering the play area
The use of self closing mechanism is strongly recommended to maintain the gate in the closed position and should not close quicker than 5 seconds to make access easier for wheelchair users and to prevent it from striking the back of children walking through
Maintenance gates should be wide enough to allow for all likely machinery but they should be kept locked when not in use
Gates should be a different colour to the fencing to make their location easily identifiable especially to those with visual impairment
RoSPA recommend the provision of a minimum of two gates to reduce risks of physical assault (one dominant child cannot easily block two gates – there is always an escape route)
Jacksons BS EN 1176 compliant and RoSPA approved play fencing and gates
Anti-Trap Bow Top Fencing
Anti-Trap Bow Top is designed to provide permanent protection for playgrounds and play areas. It features our welded tubular pale through rail design, scalloped rail ends and
vandal proof connectors to provide a strong structure without visible joints. A key feature in the design is the wider gap between each hoop to prevent children getting their heads, necks or limbs stuck between pales. The design fully conforms to play fence standards BS EN 1176 and is approved by RoSPA
.
Features and Benefits
Inherently safe
Strong welded pale through rail construction
Vandal-proof connectors
Domed top post caps with mechanical fixing to posts
Hot dip galvanised to BS EN 1461 as standard or galvanised and powder coated to BS EN 13438 in any BS or RAL colour to special order
Four standard heights from 1.0m to 1.8m
25 year Service Life Guarantee
Playtime Timber Fencing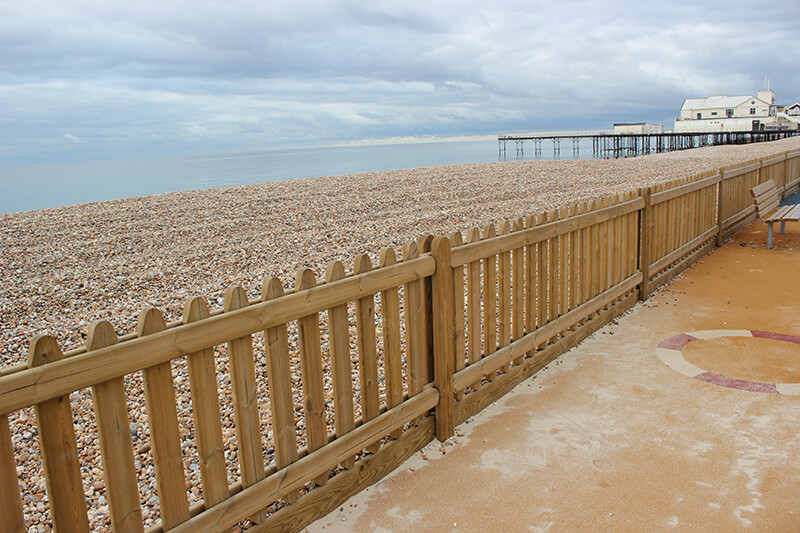 Playtime Timber Fencing is constructed to our unique design and manufactured from selected timber, Jakcure pressure treated to give a 25 year guarantee against rot and insect attack with no further treatment required.
Features and Benefits
Inherently safe
Self raking design for sloping ground
Substantial construction
Double, paired rails for strength
Planed posts, pales, rails and gravel boards
Plain Jakcure finish or further stained in colour combinations (yellow, green, blue, red)
1.09m overall height
Stainless steel or galvanised fixings and fittings
25 year Jakcure vacuum pressure treatment guarantee

Playtime Steel Fencing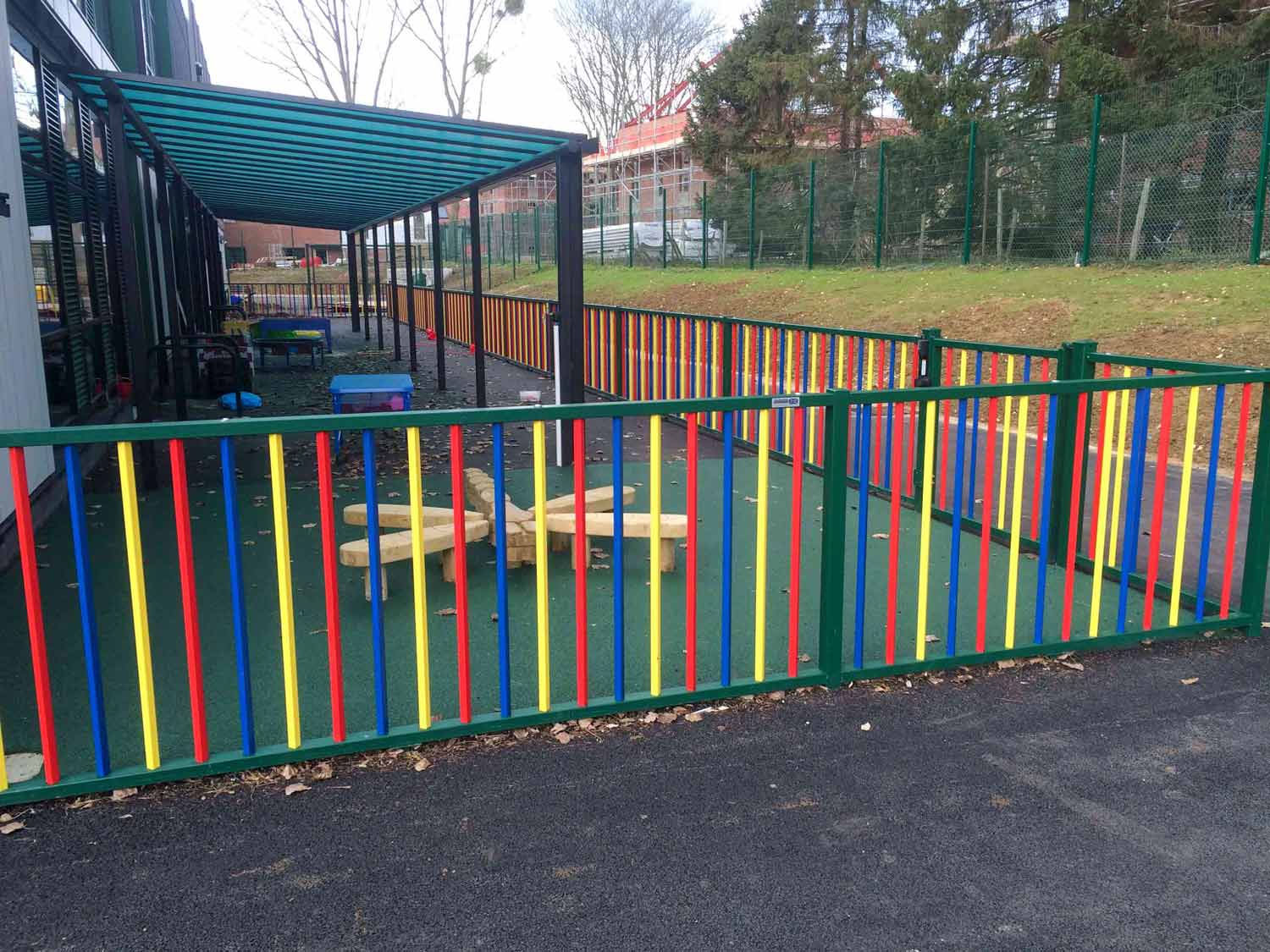 Our steel Playtime fencing system is designed to provide a strong and secure enclose while its self raking design makes it idea for sites on sloping ground.
Steel Playtime Gates - Features and Benefits
1.0m overall height
Welded stopped pale through rail design
Hot dip galvanised to BS EN 1461 as standard or galvanised and powder coated to BS EN 13438 in any BS or RAL colour to special order
25 year Service Life Guarantee
Timber Playtime Gates - Features and Benefits
1.0m overall height
Hot dip galvanised and green powder coated steel frame
25 year Jakcure vacuum pressure treatment guarantee on timber components
25 year Service Life Guarantee on steel components
Steel Playtime Gates - Features and Benefits
1.0m overall height
Welded stopped pale through rail design
Hot dip galvanised to BS EN 1461 as standard or galvanised and powder coated to BS EN 13438 in any BS or RAL colour to special order
25 year Service Life Guarantee
Beyond schools hours and terms
If the school facilities are used after hours or out of term times, careful consideration should be given to creating internal boundaries to direct pedestrian and vehicular traffic, keeping those visitors away from school buildings and access points.
Sustainability
Once installed, fencing and associated gates form part of the school infrastructure as they usually require foundations of some description. Always allow for regular inspection and maintenance of fencing to ensure they remain safe and fit for purpose with repairs and replacements being made when necessary.
When specifying fencing systems, look for best value over lowest price – it is typically as disruptive, damaging to the environment and costly to install a cheap fence with a short design life as it is a high quality alternative and over a 25-year period a poorly made fence is likely to need replacing twice.
All Jacksons' fencing systems whether constructed in timber or steel or in combination are designed to last and deliver lowest whole of life cost. They are also backed by industry leading guarantees which give you the additional reassurance that you've made the right choice.