Choosing the right fencing in and around school grounds
Risks
Arson, vandalism, bullying, theft, anti-social behaviour, truancy, inappropriate contact, and personal assault.
Considerations
Safety, security, sustainability, value for money, aesthetics, and operational efficiency.
School boundary fencing
The purpose of boundary fencing is to restrict unauthorised entry and exit into school grounds and should be specifically designed to be fit for purpose. For example, our Barbican® and Sentry® ranges feature a welded pale-through-rail construction and concealed anti-tamper connectors between the fence panel and post. This method of construction makes it virtually impossible to prise the panels from the posts to create a gateway, and also gives a better finish with no visible joints or unsightly bolts.
Unlike generic riveted palisade fencing, the Jacksons solutions are both attractive and effective, more so now that there are LPS 1175 A1 (SR1) certified and Secured by Design versions of both ranges available.
Avoid
Unless supported by monitored electronic detection and surveillance systems and manned response, we believe that chain link and mesh on roll type fencing should only be used for demarcation purposes.
Appropriate Design
Schools are places of development, and aesthetics play a big part in setting the tone and projecting the image of the school.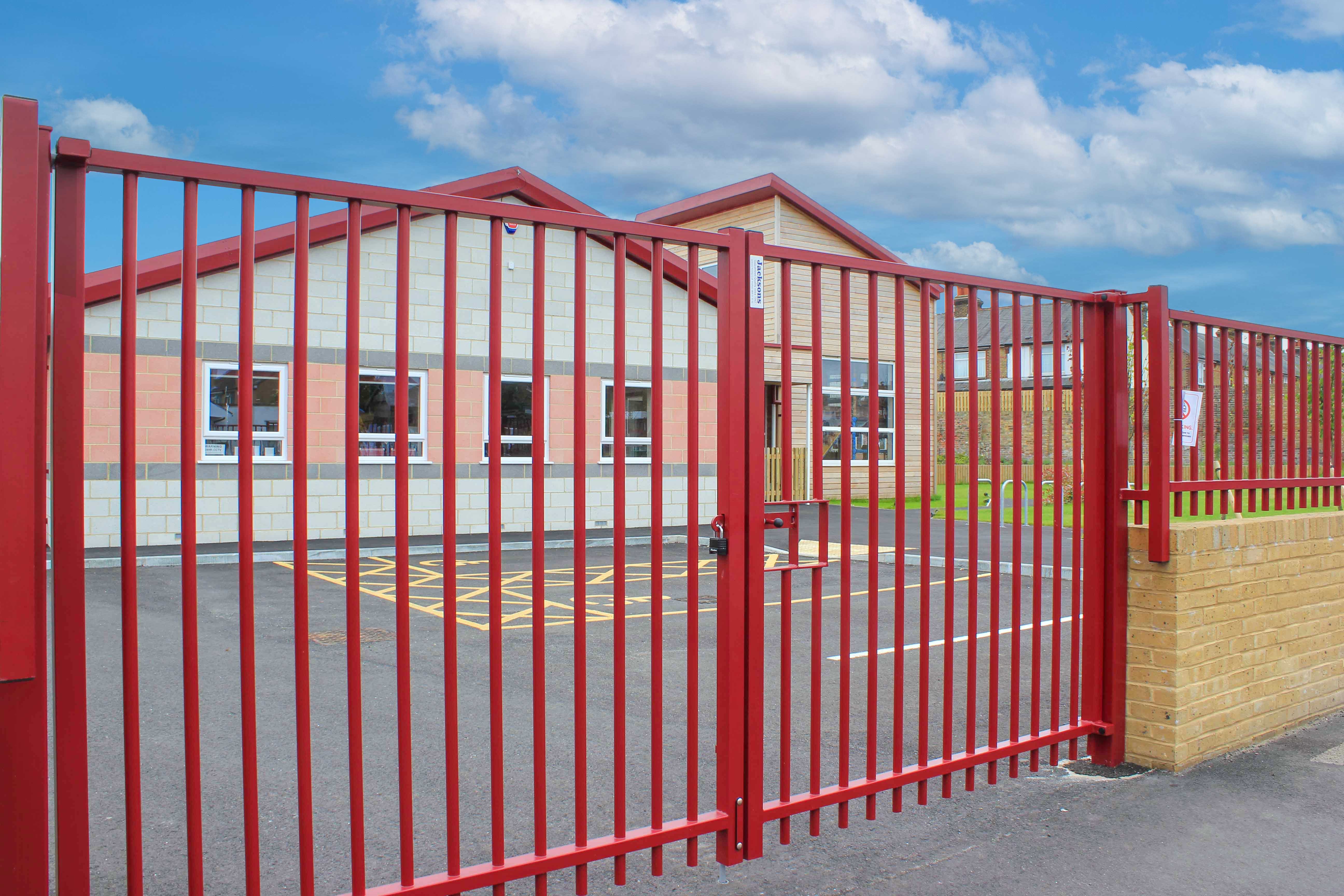 The style of fencing should meet a school's desired security and safety requirements, but at the same time it should not compromise on aesthetic considerations as the fence is generally the public face of the school. Security fencing which is attractive as well as functional will help overcome any concerns of creating a prison like environment, and promote a sense of well-being.
Secured by Design recommend that perimeter fencing should be a minimum of 2m in height, vandal resistant and robust, grounded on a hard surface, be difficult to scale, and have an anti climb topping which is much the same as a high security fence around a secure detention centre. Thankfully, we can offer a number of steel mesh panel, timber, timber and mesh combination and vertical bar style certified security fencing systems which provide you with attractive and uncompromising alternatives.
Managing Noise
Acoustic barriers can help reduce incoming ambient noise from neighbouring roads/railway lines or construction sites while containing the school noise within its boundary – something to consider especially in urban areas or where housing is close to school play areas.
Play Area Fencing
For play areas within nursery and junior schools it is important to use RoSPA approved and BS EN 1176 compliant playground fencing and gates which have been tested for their ability to provide a safe fencing and gate solution designed to reduce the risk of entrapment of limbs. Both timber and steel options are available.
Sections of the fencing for recreation areas that also form part of the boundary to school grounds should be specified as a security fence.
Sports Fencing
Commonly known as MUGAs (Multi-Use Games Areas), enclosures can be designed with specialist mesh systems to allow multiple sports to be played in the same location while providing safety to participants, spectators and buildings.
Vertical Bar Fencing
Vertical bar fencing will maintain visibility into the school site and cannot be easily climbed or tampered with due to its concealed panel connectors and fixings. Finials can be added to the top of the vertical pales to act as a further deterrent to scaling over while adding a decorative touch.
Welded Mesh Fencing
There are a variety of wire mesh fencing systems available ranging from those which are suited to demarcation through to higher security designs. For security purposes, choose a mesh fencing system with aperture sizes which eliminate any foot or hand holds making it difficult to climb manufactured in wire of a sufficient gauge to resist cutting through with hand tools.
Our EuroGuard® Combi system combines an attractive mesh design with timber. It can be used in parts of a school boundary where additional security and privacy is required while parts of the boundary where good visibility is needed, the matching wire mesh EuroGuard® Regular system would be ideal.
Timber fencing
In general, timber fencing is best suited to demarcation, managing pedestrian flow within school grounds or creating attractive enclosed or screened areas. Our range of acoustic barriers are the exception, with a secure anti-climb flat timber profile that has no hand or footholds which also increases privacy, and reduces noise.
Fence Toppings
Legally, you are allowed to add security toppings to school fencing, but we recommend that they are only installed where absolutely essential to avoid creating a prison-like environment for pupils and teachers.
Toppings available include security combs, fixed and rotating spikes, barbed and razor wire.
We recommend:
Toppings should not be installed below 2.0m from ground level where there is any risk of accidental harm to visitors or intruders.
Toppings must be visible from both sides of perimeter fences and walls.
Adequate warning signage must also be visible from both sides warning of danger.
Any entrapment points should be designed out.